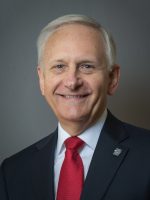 George is a life-long member of the Cathedral Parish and a graduate of St. John's Cathedral School.  In addition to assisting as a cantor, George is an usher and worked in the Parish's catering project at the Cathedral Center.  George also authored the history of the published in conjunction with the 75th Anniversary celebration of the establishment of the Byzantine Catholic Archeparchy of Pittsburgh that is on the Archeparchy's website.
George graduated summa cum laude from the University of Pittsburgh and cum laude from Duquesne University School of Law where he was an articles editor for its Law Review.  As a practicing attorney for more than 33 years, George is First Assistant Solicitor for Allegheny County and legal counsel to several local municipalities and zoning hearing boards.
A former adjunct professor of law at the Duquesne University School of Law and a former member of the Allegheny County Redevelopment Authority, George currently is an examiner for the Pennsylvania Board of Law Examiners where he assists in the grading the semiannual bar examination.  He just completed two terms as the Chair of the Allegheny County Bar Association's Municipal and School Solicitor Section and is a former member of the Bar Association's Judiciary Committee.
George and his wife, the former Kathy Shope, are the parents of three children, the late Michael, Amy, and Katie.